hSo is proud to launch its COVID Steward volunteering initiative. In our new initiative, all hSo employees are able to contribute some work time to volunteer at COVID-19 vaccination sites.
The NHS Volunteer Responders programme was set up by NHS England and NHS Improvement, working with Royal Voluntary Service and the GoodSAM app.
Our commitment to the NHS Volunteer Responders programme involves being part of the local team that ensures the smooth arrival on-site of people coming in for vaccinations.  We support with stewarding at vaccination sites and support the NHS with non-clinical tasks such as signposting people around a health site or helping them check-in.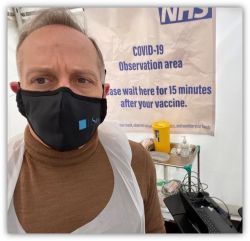 Here our Customer Development Director Avner Peleg is checking in for another day at Barnet local COVID-19 vaccination centre. We are extremely proud of every volunteer and are grateful for their commitment to the community.
In addition to our community services, we have also looked for ways to support UK organisations overcome various challenges they face due to the impact of COVID. Across the nation, we have seen a growing number of organisations now need a far more extensive remote work set-up often including fully managed device, network and cyber security solutions reflecting the shift to our "new normal".  
"I am delighted that hSo and our employees are able to contribute in these challenging times to support the NHS and the community in the fight against Covid-19.  hSo's Corporate Social Responsibility programme has enabled us to support local communities in several ways for example through service discounts for Not For Profit Organisations.  However, the NHS Steward Volunteer Programme enables hSo help the wider community and is a key element of our social vision to support the communities where we work and live.  We  encourage our employees to volunteer for up to 12 hours per month during the working day on full pay.  There has never been a better time to act!"

Chris Evans, Managing Director