5G tested in Shepton Mallet milking parlour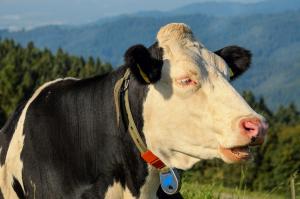 A farm in Shepton Mallet is pioneering the use of 5G on its premises to support the milking facilities of its herd of Friesian dairy cattle.
The Agricultural Engineering Precision Innovation (Agri-PI) Centre is testing out new technology, developed and supported by Cisco Systems Inc – a British innovation agency – to improve farming production and test its milking operations on 50 of its 180-strong herd.
The cows are being equipped with collars and health-monitoring ear tags connected to 5G networks which regulate a robotic milking system. When a cow feels ready to be milked, it approaches machine gates which automatically open and recognise individual cows. A device will then latch onto the cow's teats to be milked and whilst rewarding it with food.
None of the gadgets interfere or harm the cows in their day-to-day life, but merely monitor the animals to assess distress levels.
Agri-EPI Centre's project manager, Duncan Forbes, said: "We are testing the ability of 5G to transmit data from our sensors much quicker, and not via the farm's PC and a slow broadband internet connection.
"And the significance of that is it means that this sort of technology could be taken up… not just on farms but on rural communities right across the country."
Beyond the collars and ear tags, the farm is also using 5G connectivity to operate an automatic feeding system to deliver food to the cows via rails on the ceiling, smart curtains that open depending on the weather, and brushes that rotate after sensing a cow rubbing on it.
Head of Innovation, Technology, UK and Ireland as Cisco, Nick Chrissos, commented: "We can connect every cow, we can connect every animal on this farm.
"That's what 5G can do for farming – really unleash the power that we have within this farm, everywhere around the UK and everywhere around the world."