The UK can be a digital leader with 5G, says industry leader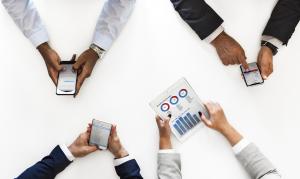 The chief executive of Vodafone UK, Nick Jeffrey, commented on the UK's ability to become a digital leader through the deployment of 5G technology across the country, supporting politicians' claims that it would lead to "economic gains worth many times the cost" as a result.
Research from the mobile operator revealed that, under the right conditions and steady rollout of 5G infrastructure, more than 50 British towns – including places like Warrington, York, Solihull, and Bath – had the potential to become digital super towns.
In addition to this, Jeffrey noted that 5G would enhance vehicles, buildings and a range of public sector services by creating more effective "smart" communication channels and therefore boost overall efficiency and productivity.
It has been estimated that by enabling local businesses and communities to have full access to top resources, 5G networks could be worth roughly £198 billion to the UK economy.
Jeffrey said: "The fifth generation of wireless mobile technology is about much more than ultra-quick downloads and web pages that are faster than ever to load. The technology has the potential to end the digital divide in the UK at the same time as boosting the UK economy and helping society.
"Now that the technology is being rolled out across the UK, it is down to politicians and business leaders to ensure that the benefits are felt across society and the economy. If we work together there is no reason why the UK cannot reinvent itself as a digital leader on the world stage."
However, the chief executive remarked that in order for the mobile wireless technology to have optimum results, two fundamental changes were required: the need to replace old copper cables with high-speed full fibre ones, and for it to relay information between 5G sites and the internet.
Moreover, Jeffrey insisted that the benefits of digital investment should not be restricted to the UK's major cities, and ought to be a nation-wide effort, stating that "super-fast broadband and mobile connectivity will lay the foundations of unlocking the potential of towns right across the UK."