Cross-party calls to give 1m children reliable broadband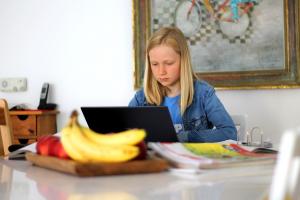 A cross-party group of MPs and former ministers has called on the government to ensure that 1.3 million children have a reliable broadband connection at home, or else risk causing serious harm to their education.
The bill, put forward by Labour MP Siobhain McDonagh, says that the COVID-19 lockdown has "exposed the digital divide", as around 700,000 children have been unable to complete any of their schoolwork due to an unreliable or non-existent internet connection at home.
McDonagh said: "The lockdown has exposed the digital divide in our society, with schools across the country reporting struggling families who do not have internet access at home."
"Those children who can't access the same resources as their classmates will find themselves even further behind when they finally return. Some may never catch up."
"This policy isn't a silver bullet and can't replace months of missed education. But it would make an immediate, tangible difference to families right across our country."
Among those to have come out in support of the bill are former Prime Minister Tony Blair, former Ofsted head Sir Michael Wilshaw, chair of the Commons education select committee Robert Halfon and Tory grandee and academies sponsor Philip Harris, as well as the backing of several children's charities.
In April, Education Secretary Gavin Williamson pledged to spend £100 million on a new scheme which aimed to provide 230,000 devices, such as tablets and laptops, and 4G mobile broadband routers to children across England who required social worker or care leaver support. However, this scheme has suffered significant delays.
The Department of Education has said it will "do whatever we can to make sure no child, whatever their background, falls behind as a result of coronavirus. The Government has already committed over £100 million to support children to learn at home, and pupil premium funding at the highest ever rate per pupil continues to be paid to help schools support their disadvantaged pupils."
"We are also working with a range of partner organisations to deliver the support that is needed for all pupils who have been affected by school closures."