Countryside ventures discouraged by poor internet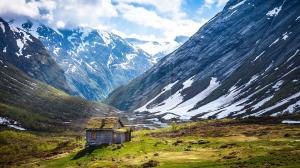 A new study conducted by Opinium surveyed 2,008 British adults to find that 17 per cent of Britons would be deterred from moving to the countryside due to the fear of being isolated by poor internet connectivity.
Of those polled, 79 per cent hailed from urban areas. But 38 per cent of those presently living in the countryside complained they struggled with slow and erratic broadband connections, whilst 25 per cent admitted they struggled to even make phone calls.
Online and telephone comparison and switching platform uSwitch commissioned the study, which further revealed that 13 million people currently living in the city would at some point like to move to the countryside.
It was found, however, that 37 per cent would not, and of those people more than half (58 per cent) were discouraged by the "poor broadband connections and patchy phone signal."
Low-quality broadband connectivity ranked second, at 58 per cent, in the table of top issues people have with living in rural areas. Poor transport links took the top spot, at 61 per cent of those surveyed stating that it would be the greatest deterrent to relocating to the countryside.
The UK regulator Ofcom found that 2G, 3G and 4G voice coverage only encompassed 77 per cent of all British premises, and 6 per cent was not serviced by any operator at all.
Those wishing to move to the countryside are encouraged to conduct their own research before moving, so as to understand the state of internet coverage and what options are available prior to settling into a new place.
Currently, some of the factors that prevent faster and more reliable internet speeds is the cost of extending services to rural areas, the lack of awareness when it comes to upgrading or changing ISPs, and customers being sealed in long-term contracts and unable to migrate to new providers.