Borders' broadband service in need of improvement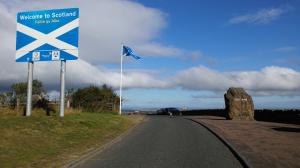 According to a recent study conducted by uSwitch.com, broadband speeds in the Borders have been termed "embarrassing and concerning" after being found to be some of the slowest throughout the UK.
In particular, houses for those living on Halkburn Road in Galashiels were recorded to have average download speeds of 0.466Mbps, in comparison to the nationwide average of 46.2Mbps. With those speeds, residents could expect a Netflix film to download in 30 hours, whilst only taking 18 minutes in other parts of the country.
The study polled broadband speeds in 28,000 locations across the UK and found Halkburn Road to rank 17th in terms of having the weakest and slowest internet connections.
Furthermore, the research found that at least a fifth of properties in the Borders failed to achieve speeds greater than 30Mpbs. In addition to this, an Ofcom report revealed that only 53 per cent of rural Scotland could access reliable 4G connections, whilst almost 99 per cent could in urban centres.
John Lamont, MP of Berwickshire, Roxburgh and Selkirk, said: "We already know that the Scottish Borders has some of the slowest average broadband speeds in the UK, but this research really highlights the extent of the problem.
"For the Borders to feature in the worst 20 roads in the whole of the UK is both embarrassing and concerning.
"Broadband speeds like this are next to useless in this day and age and as residents in the Borders are often paying a premium, it is grossly unfair."
Lamont noted that the Government's deployment of the Universal Service Obligation (USO) initiative could not come faster so as to cater to these badly connected areas.
South of Scotland Labour MSP Colin Smyth commented that the poor broadband speeds could limit the potentials of the Scottish economy, noting that businesses were often held back by the lack of reception and connection.
Smyth said: "Both the Scottish and UK governments must announce funding for the Borderlands growth deal that includes a number of initiatives to improve digital connections locally and provide a real boost for local communities, businesses and the economies."