Wessex Internet begins Blandford FTTP rollout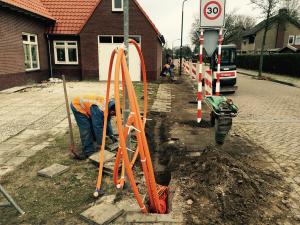 Internet service provider Wessex Internet has announced that it has started work to deliver a new gigabit-capable full fibre FTTP broadband network to the town of Blandford in North Dorset. The rural-focused provider says that the network will aim to cover over 6,000 premises in the market town.
Wessex Internet says the first phase of construction has been completed, with infrastructure installed along the town's Trailway. The company has now begun work connecting customers to the network in Blandford Heights and around the Sunrise Business Park.
The provider has also now started work on the second phase of the project, targeting residential premises. The first residents in the Milldown area of Blandford will be able to connect to the network shortly, Wessex Internet says.
The Blandford rollout is one of several projects that Wessex Internet is undertaking in Dorset. Other projects include a rollout to around 8,000 premises in the towns of Sturminster Newton and Blandford Forum, as well as a scheme to deliver connections to 60 community sites across Blandford and Sherborne. The company is also covering over 3,600 premises in rural areas of South Somerset with FTTP.
Wessex Internet is headquartered near Blandford in the village of Shroton. The company is targeting rapid growth over the next year, with Blandford representing the first of several planned rollouts to market towns across Dorset and Somerset. The company is also planning to create over 100 new jobs, many in its new Town Planning and Construction divisions, over the next year.
Commenting on the Blandford build, Wessex Internet CEO Hector Gibson Fleming: "Our expansion into market towns is an exciting new chapter for Wessex Internet, and there was no question we'd start in our hometown of Blandford. We're delighted to have completed the phase one infrastructure build and can't wait to start connecting residents to full fibre broadband."