Virgin Media O2 plans network-wide fibre upgrade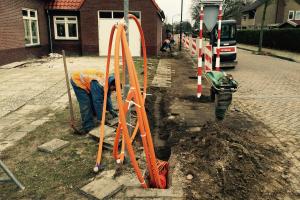 Virgin Media O2 has announced that it plans to fully upgrade the approximately 14.3 million UK premises passed by its Hybrid Fibre Coax (HFC) network to full fibre by the end of 2028. According to the company, the upgrade to full fibre will improve connectivity for customers and bolster its long-term strategy.
The new upgrade will be undertaken alongside the company's existing Project Lightning, through which it has connected around 1.2 million UK premises so far. Virgin Media O2 says that it will use existing ducts to install the new fibre. The provider's HFC network will remain operational beyond 2028, with fibre merely being deployed alongside the existing cables.
The estimated investment over the seven-year timeline will equal around £100 per property, or £1.4 billion. The company says that this is represents a "modest rise" on what would have been spent upgrading existing cables in future.
Virgin Media O2 opted to go for full fibre following deployment trials, analysis of alternative scenarios and with a view to potentially entering the fixed wholesale market alongside Openreach.
Virgin Media O2 CEO Lutz Schüler said: "Our mission is to upgrade the UK, and we are doing exactly that. This major new fibre upgrade programme will see us begin the next evolution of our network, building on the investment, firepower and leadership we already have and ensuring we're fibre fit for the future."
"Right now, we have the UK's leading gigabit network, and this upgrade means we'll be even stronger for the decades ahead, pursuing new opportunities and putting words into action. In 60 days since the formation of Virgin Media O2, we have achieved a lot, but this is just the beginning. With strong foundations for growth in place, we will boost connectivity, provide greater choice and be a challenger the country can count on."