Virgin Media finishes Barnet FTTP build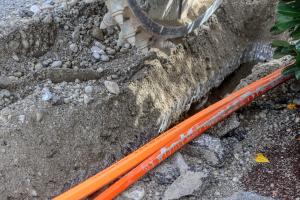 Virgin Media has announced that it has finished its network expansion in Barnet, enabling 34,000 premises in the area to connect to its gigabit-capable Fibre-to-the-Premises (FTTP) platform.
The expansion forms part of the provider's Project Lightning build, a £3 billion project which aims to add an additional 4 million premises across the UK to Virgin Media's FTTP network.
The network roll-out for Barnet was announced in 2016 as part of a broader Virgin Media plan to ramp up its network to 450,000 extra premises in London. This project was initially due for completion by the end of 2018.
Project Lightning connects premises to the Virgin Network through a combination of FTTP via Radio Frequency Over Glass (RFoG) and Hybrid Fibre Coax (HFC) technology. Both of these utilise of the DOCSIS standard, allowing them to harness the same consumer hardware.
Commenting on the completion of roll-out in Barnet, Virgin Media Regional Director for London Richard Vivian said: "It is fantastic news for residents in Barnet that we have finished our expansion and they can now access ultrafast broadband services. This significant digital boost for more than 34,000 premises will make it easier for Barnet residents to work, stream, shop, learn and much more, all online."
Currently, Barnet's residents can access an average peak time download speed of around 516 Mbps via the new Virgin Media network. By the end of 2021 this will be able to be upgraded to possible top speeds of over 1 Gbps, due to a new DOCIS 3.1 upgrade.
By the close of 2021, Virgin Media aims to deliver its gigabit broadband service to its entire network of 15 million premises, through its Gig1 service. The operator has continued to expand its network to new UK premises in spite of the coronavirus pandemic, introducing measures such as supporting customers in installing their own services.