UK full-fibre growth among Europe's highest, but overall ranking remains low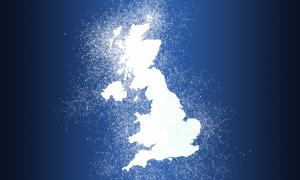 In the FTTH Council Europe's latest ranking of full fibre penetration across the 39 European nations, the UK has remained third bottom, despite continuing to show strong growth in its full fibre rollout. The study utilised data harvested in September 2020.
In last year's report, the UK had a 2.8 per cent market penetration rate, with 18.2 per cent take-up. These figures represented significant growth from 2019 and this has continued, with market penetration now standing at 3.7 per cent, take-up at 25 per cent and coverage at 15.1 per cent.
The UK's continuing rapid growth has been boosted by growing government support for gigabit-capable rollouts and the increased prominence of new ISPs. The £5 billion Project Gigabit should see this gather further pace over the coming years.
The strength of the UK's rollout means that, despite still remaining near the bottom overall, it is among the fastest growing markets in Europe. Full-fibre coverage in the UK increased 64 per cent, the fourth best rate in Europe. This equated to 1.7 million premises added, also the fourth best in Europe.
Despite this, the UK remained third from bottom. This is largely on account of Germany, the UK's closest nation in the rankings, growing at an even faster rate, adding 2.7 million premises and seeing its coverage increase 66 per cent.
Overall, the largest growth in terms of homes added was France, with 4.6 million homes. Belgium, the country at the bottom of the overall rankings with just 1.3 per cent coverage, saw the biggest increase as a percentage, with coverage growing 155 per cent from 2020.
The most significant finding in the report was that Europe has passed the milestone of over half of homes having access to a full fibre connection, with close to 182.6 million homes now having access.
Vincent Garnier, FTTH Council Europe Director General, commented: "The telecoms sector can play a critical role in Europe's ability to meet its sustainability commitments by reshaping how Europeans work, live and do business. As the most sustainable telecommunication infrastructure technology, full fibre is a prerequisite to achieve the European Green Deal and make the European Union's economy more sustainable."
"Competitive investments in this technology should, therefore, remain a high political priority and we look forward to working with the EU institutions, national governments and NRAs towards removing barriers in a way to full-fibre Europe."