South Dorset ISP Juice Broadband joins CityFibre network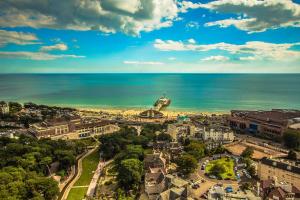 Poole-based ISP Juice Broadband has announced that it has joined CityFibre's gigabit-capable FTTP network. Juice Broadband, which provides services including fixed wireless and full fibre on the Openreach network to premises across South Dorset, becomes the first Dorset ISP to partner with CityFibre.
Juice Broadband is understood to have already connected its first customers in Bournemouth, with its rollout set to proceed across the rest of Bournemouth and be largely completed in Poole and Christchurch by the end of 2023. The provider says that residents will be able to choose from four different speed options, ranging from 200 Mbps to 900 Mbps.
The news comes with CityFibre having already committed to investing £30 million to rolling out its FTTP network in Poole and Christchurch, alongside its ongoing rollout in Bournemouth. The company's Dorset rollout, which is being undertaken alongside civil engineering firm CCN Communications Ltd, is part of its £4 billion UK-wide rollout.
Ricki Hill, Unified Communications Manager at Juice Broadband, commented: "We're delighted to be the only Dorset ISP partnering with CityFibre which means we can offer a truly local experience from initial enquiry to ongoing support. We are really excited to see our first customer live on the network. With CityFibre continuing to add to the number of homes which are ready to receive their service, it's great news for our area."
CityFibre's City Manager for Bournemouth, Christchurch and Poole Lucy Cooper added: "We are delighted to be working with Juice Broadband to offer people the opportunity to access the full fibre network we have been building in BCP."
"We have made real strides in bringing state-of-the-art digital connectivity to homes since beginning our build and look forward to even more of the local community having access to fast and reliable digital connectivity in the near future through a Poole based ISP. We have committed at least £65m of private investment to the area and anticipate our citywide roll-out will be largely complete by late 2023."