Schemes combine to boost superfast broadband in Scotland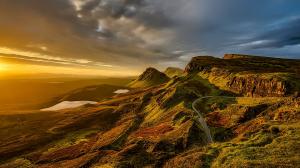 The Scottish Government has announced that it will combine the Scottish Broadband Voucher Scheme (SBVS) with the UK's Rural Gigabit Connectivity (RGC) programme to boost the amount of funding available to remote properties in Scotland.
According to the SBVS, the vouchers aim to help properties that will not be reached by the main UK superfast rollout, including homes in businesses in remote areas such as Shetland and Orkney.
The boosted value means the vouchers will now be worth up to £8,500 for small businesses and £6,500 for households. As a result, superfast broadband is now expected to become available in locations where it might otherwise be too expensive for the technology to be deployed.
Commenting on the new partnership, Matt Warman, UK Minister for Digital Infrastructure, said he hoped the deal will help rural communities benefit from the same connectivity available to more populated areas.
"A quarter of all properties across the UK can now access these faster speeds and with more collaboration like this at a local and national level, we will see even more rural towns and villages staking their claim to these next-generation speeds," he said.
Paul Wheelhouse, Scotland's Connectivity Minister, added: "We have been working closely with the UK Government to join up our respective funds and processes to maximise the impact of our respective voucher schemes across Scotland to add to progress achieved under the Digital Scotland Superfast Programme and augment our investment through our £600 million R100 programme."
The additional funding has been welcomed by Marvin Smith, who manages Shetland Telecom on behalf of Shetland Islands Council. He has suggested that residents of more remote areas carefully consider their broadband options to ensure they make the most of the funding, which he points out may not be available again in the future.
"The important thing for people to understand is that the voucher schemes are going to be available for many months if not years and it is critical that they get the right long term broadband solution," he added.