Openreach to extend FTTP broadband rollout to Nottingham and Belfast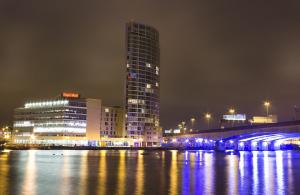 Openreach has announced they will be next launching their "Fibre First" programme in Nottingham and Belfast. The rollout will consist of a 1Gbps capable Fibre-to-the-Premises (FTTP) broadband ISP network and work is expected to start imminently.
Starting in the Gedling area of Nottingham, work will begin shortly on a new full-fibre service. Openreach is of the view that 98% of homes and businesses in the area have accessibility to superfast broadband at the moment via a fibre-to-the-cabinet (FTTC) connection.
Kay Cutts, Leader of Nottinghamshire County Council, said: "Our partnership work with Openreach through the Better Broadband for Nottinghamshire programme in recent years has helped make us one of the best connected counties in the country, with more than 98 percent of homes and businesses able to access superfast broadband.
"Being part of the first Fibre City roll out will ensure Nottinghamshire remains at the forefront of digital infrastructure, with all the economic and social benefits that provides. Having access to the fastest and most reliable broadband is not only great for today, but future-proofed for generations to come. I am delighted that Openreach is supporting our ambitions for growth in Nottinghamshire."
Belfast is also excited with the launch and hopes that the rollout will provide a significantly greater broadband service that will boost its local tech industry.
Donal Lyons, chair of Belfast City Council's city growth and regeneration committee said: "It is brilliant news that Belfast will be the first full-fibre city in Northern Ireland. At the heart of our Belfast Region City Deal vision is a drive to deliver inclusive growth and to focus efforts on areas such as the digital sector where we can become genuinely world class."
The "Fibre First" programme was first launched in 2018 with an aim to target urban areas. With the success of the program, Openreach says that thousands of properties per week have been upgraded and they are on track to deliver 10 million premises across the UK by 2020.