Ofcom: Over eight million UK homes now have full-fibre access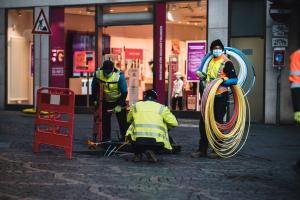 Telecoms regulator Ofcom has released its latest Connected Nations report, which shows that full-fibre network coverage is now available to 8.2 million premises across the UK (around 28 per cent of total UK premises).
Over recent years, full-fibre availability within the UK has increased considerably, with coverage standing at just 3 per cent in 2017. In 2018, 1.8 million premises (6 per cent) had access to a full-fibre connection, rising to 3 million (10 per cent) in 2019 and 5.1 million (18 per cent) in last year's report.
However, despite these advances, take-up of full-fibre services among premises with access to them is lagging. 24 per cent of the 8.2 million premises that have access to a full-fibre connection have taken up the option, down slightly from 25 per cent last year and 30 per cent in the 2019 report.
Numerous reasons have been cited for this lag, including that the current pace of full-fibre network building in the UK means that connections are becoming available faster than people are signing up. However, some have suggested that there is a widespread lack of awareness that faster speeds are available.
The report also found that gigabit-capable coverage has grown significantly from 27 per cent in 2020, to 47 per cent this year. Overall "superfast" coverage (defined as 30Mbps+) stands at 28.1 million premises (96 per cent). However, this falls to 83 per cent in rural areas.
Ofcom's report states that around 123,000 premises (0.4 per cent) currently don't have access to a "decent" broadband connection (10Mbps+), with the government's £5 billion Project Gigabit continuing to target the UK's hardest to reach premises.
Ofcom Network and Communications Group Director Lindsey Fussell said: "Many families now have multiple devices on the go at the same time for work, learning and entertainment – and the festive holidays can see a particular battle for bandwidth."
"Full fibre is helping meet those demands, with millions more benefitting from faster speeds and more reliable connections. But some homes in hard-to-reach areas still struggle to get decent broadband, so there's more work to do to make sure these communities get the connections they need."