Netomnia receives £295m in funding boost for FTTP rollout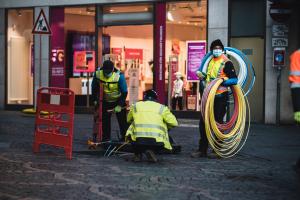 Full-fibre broadband infrastructure provider Netomnia and internet service provider YouFibre have secured £295 million in funding to continue their rollout of 10 Gbps capable Fibre-to-the-Premises (FTTP) broadband to premises across the UK.
The funding has been led by DigitalBridge Investment Management, DigitalBridge Group, Inc's investment management platform, and adds to the £123 million in funding that the broadband providers received last year from ESO Capital Partners UK LLP, AdvenCap Ltd, Avenue Capital Group and from the provider's founders. The funding also includes follow-on investments from AdvenCap and Soho Square Capital LLP.
CEO and founder of Netomnia Jeremy Chelot said: "We are thrilled to partner with DigitalBridge and benefit from their support and industry expertise as we work towards our target of one million premises passed in the next two years. We are scaling rapidly and aim to play an active role in unleashing the UK's digital potential by delivering the benefits that come with multi-gigabit fibre broadband."
Netomnia's UK rollout began in 2020 and it has now covered over 130,000 premises across several towns in the UK, an increase from 115,000 premises just last month. Moving forward, the company is aiming to reach one million UK premises with its 10 Gbps-capable fibre broadband network by the end of 2023.
Manjari Govada, Principal at DigitalBridge added: "We have known Jeremy for several years and are excited to partner with him in scaling the Group into a premier fibre-to-the-premises (FTTP) provider in the UK. We have been highly impressed with the growth of the business and the best-in-class team he has assembled."
The transaction for the funding is expected to close in the second quarter of 2022, subject to customary closing conditions and regulatory approvals being gained. Digitalbridge were provided with legal counsel by Vinson & Elkins L.L.P., while Netomnia and its existing shareholders were advised on the transaction by Stephenson Harwood LLP, along with independent investment bank Greenhill.