Gigaclear announces Wincanton will be part of FTTP rollout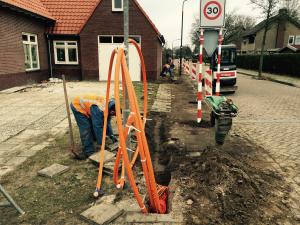 Internet service provider Gigaclear has announced that it will be rolling out its new gigabit-capable Fibre-to-the-Premises (FTTP) network in the rural town of Wincanton, which is in South Somerset in England.
Wincanton is home to around 5,300 people and the full fibre rollout is planned to cover 3,396 premises across the town. The rollout will require over 62 kilometres of new fibre and this will be laid via trenching as well as through utilising existing duct and pole infrastructure.
Jo Scarrott, South West General Manager at Gigaclear, said: "We've already been building our network in rural Somerset where we've focussed on bridging the digital divide and addressing inadequate broadband provision. Now that we've got a well-established network here, we can turn our attention to its market towns, like Wincanton, which are calling out for better internet."
The provider already has a presence in rural communities and market towns in Oxfordshire, Buckinghamshire, Hertfordshire, Herefordshire, Gloucestershire, Wiltshire, Berkshire, Somerset, Devon, Dorset, Northamptonshire, Lincolnshire, Leicestershire, Kent and Essex.
Gigaclear, which is backed by European infrastructure investor Infracapital currently covers over 250,000 premises and aims to reach 500,000 by the end of 2023.
"Fast broadband speeds are a necessity for a modern economy. The way in which we live and work depends on the internet, something that has been sharply underlined by the pandemic. We believe in digital inclusion for all and we're excited to bring our network to more people so they can enjoy the life-changing benefits that come with world-leading connectivity." Scarrott added.
Gigaclear is not the only ISP planning to expand its presence into Wincanton however, Jurassic Fibre also has the market town listed on its South West England rollout plan, which aims to cover 350,000 premises across the region by the end of 2024, while Openreach also plans to deploy its FTTP broadband to the town.