Full fibre broadband rollout begins in Lancashire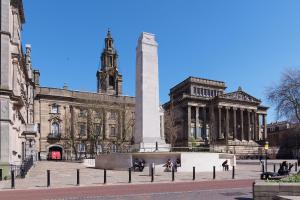 Work has begun to rollout full fibre broadband to every home and business across the Lancashire town of Preston as part of a £30 million project.
CityFibre, the UK's largest independent full fibre platform, has launched its latest city-wide infrastructure rollout in a bid to future proof the digital requirements of the town, beginning in the Frenchwood and Fishwick areas.
According to Telent, which is working on behalf of CityFibre, the team will be using a number of construction methods in conjunction with Preston City Council to delivery fast rollout with minimal disruption to local residents.
Each part of the Lancashire town will require a few weeks of work before broadband is installed, with completion expected by 2024.
Commenting on the news, Steve Thorpe, CityFibre's City Manager for Preston, said: "I'm immensely excited and proud to see work getting underway in Preston today.
"This is the start of an exciting new chapter for the city as it gets ready to thrive in the digital age," he added. "It's important to remember that any short-term disruption will pay off tremendously in the long-term - once the network's built, it will serve the community's connectivity needs for decades to come."
Deputy leader and cabinet member for planning and regulation at Preston City Council, Councillor Peter Moss, added: "The past year has demonstrated the importance of fast and reliable internet for residents and businesses.
"Central to this is an effective and future-proof network infrastructure," he said. "We're pleased to be working with CityFibre as they deliver this £30million infrastructure project in Preston."
CityFibre is already working with launch partner Vodafone in many other areas of the UK providing full fibre infrastructure for customers across a growing network. The network is based on 100 per cent fibre optic cables that are able to carry data at light speed between homes or businesses and the point of connection.
As a result, users will receive internet speeds of up to 1,000 Mbps for uploads and downloads, as well as almost unlimited bandwidth.

(Image: Wikimedia)