Close to a fifth of UK schools face 5-year wait for full-fibre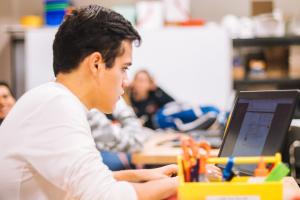 According to recent figures from the Department for Digital, Culture, Media and Sport (DCMS), close to a fifth of UK schools face a wait of at least five years before they will be able to access a full-fibre broadband connection.
The DCMS data, revealed in a parliamentary written answer by Schools Minister Robin Walker, showed that 3,835 schools in the UK are located in postcodes "that do not have access to full-fibre or are currently not in areas of proposed commercial build within the next five years".
Last month, the government said that 1,084 schools in rural areas had received a connection to a gigabit-capable fibre network through a £27.6 million investment led by Building Digital UK and the Project Gigabit programme. The government also said that a further investment of £22.5 million will see 884 additional schools connected to full-fibre by March 2022.
A spokesperson said that the government wants "all schools in the country to have access to fast internet. We are committed to continued investment, ensuring that every school has access to modern internet connectivity in the classroom – benefiting thousands more children and teachers."
The spokesperson added: "We are working to accelerate connectivity to schools and the Government's Gigabit Hubs programme will provide fast internet to around 2,000 schools. Separately, we are investing up to £30 million in a pilot to upgrade schools' digital infrastructure in around 1,000 schools, allowing them to benefit from fast Wi-Fi and cloud services."
Despite this, the DCMS figures show that there remains a significant gap in connecting some schools. Shadow Schools Minister Peter Kyle asserted that "[the government's] lack of ambition for children is shining through again, leaving nearly 4,000 schools without access to full-fibre in 2025". Kyle added that "top-class" fibre broadband is "essential if children are to develop the digital skills they'll need for the future".