CityFibre to deploy FTTP network in Slough and Swindon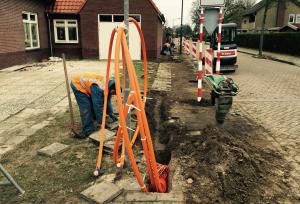 CityFibre has announced that it is planning to deploy a new gigabit-capable Fibre-to-the-Premises broadband network in the towns of Slough, Berkshire and Swindon, Wiltshire. The Slough roll-out will cost £24 million, while Swindon will see a £40 million investment.
The provider has already begun engineering surveys across both towns, where it already has an existing Dark Fibre network, with work due to start in October 2020, with a forecast end date of 2023.
Neil Madle has been appointed as City Manager to lead the delivery of the network in Swindon, while Stacey King has been appointed City Manager for the Slough project. CityFibre has again chosen VolkerSmart Technologies, a division of VolkerHighways, to lead the civil engineering of the projects.
VolkerSmart Technologies will oversee the excavation of 430,000 metres of new trenches in Swindon and 262,000 metres of new trenches in Slough.
Cllr James Swindlehurst, Leader at Slough Borough Council, said: "We welcome this private investment by CityFibre into Slough to deliver a modern, fit-for-purpose digital infrastructure that will futureproof residents and businesses."
"Slough Borough Council continues to work closely with the private sector to facilitate economic growth in the digital age and CityFibre's Full Fibre network will be vital in ensuring Slough has a resilient and dynamic economy for years to come."
David Renard, Leader of Swindon Borough Council said: "Every modern, vibrant economy needs access to fast broadband and we have made it a priority to ensure residents and businesses in Swindon are able to benefit from the latest technology."
"We welcome CityFibre's investment in our town as it furthers our aim of providing a future-proofed, Full Fibre digital infrastructure and a greater choice for the people of Swindon."
VolkerHighways Managing Director Alistair Thompson said: "It's great to be part of an enterprise that transforms communities' digital experiences, by giving them faster and more reliable broadband."