CityFibre to cover 12,000 premises in Bournemouth, Christchurch and Poole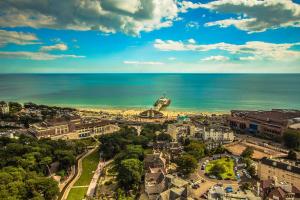 Full fibre platform CityFibre has announced that it has struck a wayleave agreement with Bournemouth, Christchurch and Poole Council (BCP Council) to connect 12,000 council premises to the network.
CityFibre has existing builds ongoing in the area, with services said to be live for most Bournemouth residents, while it broke ground in Poole and Christchurch earlier this year. The new wayleave agreement extends this project to 12,000 council-owned properties and brings CityFibre's total investment in the area up to £65 million.
BCP Council Deputy Leader Philip Broadhead commented: "We are delighted to welcome CityFibre into Poole and Christchurch following its continued rollout Bournemouth. This investment will give the area a further boost to help the area thrive in a modern digital economy. This year has shown just how reliant we are on broadband services, which is why CityFibre's build is so important."
CityFibre CEO Greg Mesch added: "We have made fantastic progress rolling out our network, first in Bournemouth, and now rapidly expanding across Christchurch and Poole. This has been achieved through close collaboration with local stakeholders at the council as well as our build partner in the area."
"However, as we scale at pace, it's important to make sure we help everyone in the area level up at the same time. Gaining wayleaves means we will be able to reach some of the residents who stand to benefit the most from better connectivity."
"We are excited about building on our progress and making sure we're connecting more homes, businesses, schools and hospitals, and supporting 5G mobile network deployments in the area in the weeks and months to come."
The wayleave extension to CityFibre's build in Bournemouth, Poole and Christchurch comes as part of the provider's wider £4 billion project, through which it aims to connect at least 8 million UK premises by 2025.