CityFibre starts work on £12m Horsham rollout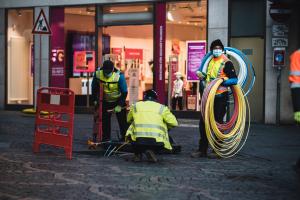 CityFibre has announced that it has commenced work on a £12 million rollout of its gigabit-capable Fibre-to-the-Premises broadband network in the town of Horsham, West Sussex. The company says that the rollout will bring full fibre connectivity to within reach of "almost" all premises in the town, which is home to approximately 51,000 residents.
The project is expected to be completed by 2023/24, but the first services will go live much sooner as builds are completed in each neighbourhood. CityFibre says it will typically take a few weeks to complete the rollout in each area. The company adds that construction will only usually take place outside each home for 2-3 days, with residents being informed by post ahead of work beginning.
Construction has begun in the east of Horsham on Hammerpond Road. Civil engineering firm Lanes-i has been contracted to partner with CityFibre on the construction of the network. The company will work closely alongside Horsham District Council and utilise a range of construction methods in order to deliver a fast rollout and minimise disruption.
CityFibre's City Manager for Horsham, Anne Krause, commented: "I'm immensely excited and proud to see work getting underway in Horsham as the town gets ready to thrive in the digital age. It's important to remember that any short-term disruption will pay off in the long-term; once the network's built, it will serve the community's connectivity needs for decades to come and plays a crucial role in growing and protecting local economies."
Horsham District Council's Cabinet Member for the Local Economy, Councillor Chris Brown, added: "We welcome CityFibre's investment into deploying a full fibre network in Horsham. Having a modern state-of-the-art infrastructure is vital for growing our economy and ensuring that homes and businesses get the very best digital connectivity. Not only will full fibre attract new businesses, drive innovation and start-up growth but it will also modernise day-to-day services, support the adoption of new digital health technologies and bring benefits to all."