CityFibre announces £21m FTTP rollout for Lincoln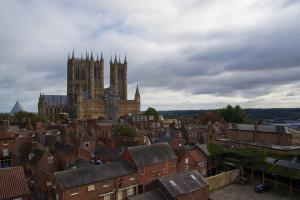 Lincoln has been named as the next UK city in line for a multi-million-pound investment in a new gigabit-capable Fibre-to-the-Premises (FTTP) broadband ISP network from CityFibre. CityFibre is investing £21 million in the new city-wide digital infrastructure that will bring full fibre broadband connectivity within reach of every premises in the city.
Construction will begin in March 2022 in the city, which is home to a population of around 95,000 residents, and will be delivered by CityFibre's build partner, Trust Utility Management Ltd.
CityFibre's City Manager, Neal Wright said: "The next chapter in Lincoln's story starts here. Our builders will soon get to work on a city-wide Full Fibre network – and we think people will be blown away by the difference it will make, both now and for generations to come."
"We cannot wait for residents and businesses to see what is possible with digital connectivity that propels you forward rather than holds you back."
Trust Utility Management Limited's Managing Director Bill Hammond added: "CityFibre's commitment to delivering the latest in full fibre technology to the city of Lincoln is very exciting and we welcome the opportunity to work on such a prestigious contract."
"We are certain that with our vast utility contract management experience and the high calibre team that we are building, this project will prove to be a success for Trust Utility Management Ltd and our client City Fibre."
CityFibre is investing £4 billion in its FTTP programme, aiming to have 8 million UK premises with FTTP "substantially completed" by the end of 2025. Lincoln is part of a wider rollout, which will ultimately cover 285 cities, towns and villages, as well as 400,000 public sector sites and 250,000 5G access points.
Lincoln is already home to a significant, gigabit-capable Virgin Media (VMO2) network, which covers the majority of its premises, while Openreach is deploying FTTP across Lincoln.