BT targets FTTP Broadband for 20 million premises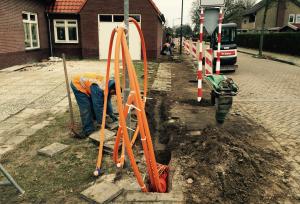 In its Q4 2019/20 financial results, BT Group has set a provisional target to boost its roll-out of gigabit-capable FTTP broadband to 20 million UK premises by the "mid- to late-2020s".
Currently, Openreach is targeting an initial goal of connecting 4 million UK premises to FTTP by the end of March 2021, with around 2.6 million premises completed thus far. However, in its latest results, it had said that it will exceed this target and reach 4.5 million premises by March 2021.
Following on from that, the operator was expected to aim to connect 15 million by 2025. It has previously stated that changes from the government and regulator Ofcom will influence its future strategy.
BT has stated that it is forecast to maintain its "average build cost of £300-£400 per premises passed across [the] 20 million". However, the company adds that "gross build costs in schemes supported by public subsidy – which we also expect to contribute to the 20m plan – are significantly higher than this range."
The company states: The build cost of FTTP deployed at new housing sites which also contributes to the 20m is also higher since the build and provision stages are typically collapsed into one phase and there is less existing passive infrastructure available to use".
BT Group CEO Philip Jansen confirmed that, as the full impact of coronavirus will only become clear over the next year, BT will not provide guidance for 2020/21 at this time. Jansen added: "Today we are announcing a rapid acceleration of our FTTP build with a target of 20 million premises passed by the mid- to late-2020s, including a significant build in rural areas."
"After passing 1.3 million premises last year, we are aiming at over 2 million in 2020/21, and envisage a maximum build rate of 3 million premises per year. Our FTTP investment should deliver pre-tax nominal returns of between 10 per cent to 12 per cent and is based on a regulatory framework consistent with Ofcom's preferred policy direction and continued support for infrastructure investment and competition."