1Gbps broadband comes to West Midlands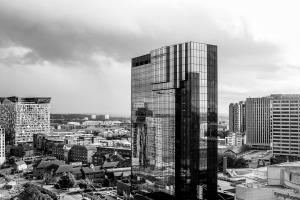 Virgin Media has announced that it will enable access to its new 1104Mbps Gig1Fibre broadband speed upgrade across over 1 million homes in the West Midlands, starting early next month.
This will largely be focused around the large towns of Birmingham and Coventry and their surrounding areas.
It will bring the number of premises with access to this upgrade up to over 2 million, with around 1 million premises across parts of Berkshire, Hampshire and Buckinghamshire already gaining access.
The provider aims to rollout the rest of the network, which is currently targeting 15 million UK premises, by the end of 2021.
Virgin Media says that this switch-on is the largest in the UK. It will enable the beneficiaries to access download speeds of over 1,104 megabits per second.
Customers who opt to take out the Gig1Fibre package will receive a new HUB 4.0 router, enabling them to access speeds higher than Virgin Media's 500Mbps tier, which the existing HUB 3.0 does not support.
Virgin Media COO Jeff Dodds said: "Switching on gigabit speeds for more than a million homes in the West Midlands, the UK's largest gigabit rollout to date, will be a leap forward for the region and a big step for the Government's gigabit broadband ambition."
From gaming to streaming, Gig1's hyperfast speeds will mean that households can do everything they want to do online, at the same time and without delay, with millions of more homes set to benefit this year as we bring this next-generation connectivity to more cities around the UK."
Meanwhile, Oliver Dowden MP, the UK's Digital Secretary, commented: "Today's announcement means we're a million homes closer in delivering our plans to deliver gigabit broadband to everyone in the UK."
"We're working closely with companies like Virgin Media and investing £5 billion to ensure the hardest to reach areas aren't left behind – so that every part of the country can enjoy the benefits of a world class internet connection."