Test and Dun Valleys receive long-awaited ultrafast broadband rollout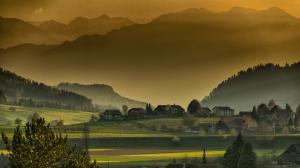 The first villages in the Test and Dun Valleys have reached broadband speeds of up to 362Mbps, with approximately 640 homes and businesses across Chilbolton and Goodworth Clatford now being able to benefit from the rollout of fast internet thanks to Virgin Media and village campaigners.
Chair of West Tytherley and Frenchmoor Parish Council, Cate Bell, said: "We are really pleased that Virgin Media's network is now starting to appear across the Test and Dun Valley villages. Their build is the result of a huge community campaign, championed by several individuals across the area, and we are glad that villagers can now start to benefit from this a brilliant initiative."
The residents of Chilbolton are over the moon with the boost in broadband speeds as it has made a big difference to their lifestyles, for the better.
A resident of the area, Julie Connor, said: "As we live in a rural area, we felt left behind by the technological advance happening in more urban areas and was frustrated by the lack of action from some internet providers.
"Our ability to use the internet has massively improved and there are now more activities for our children to do. Instead of it taking days to upload files, it now takes minutes.
"Working from home will be so much easier and we can now make full use of the office which we couldn't previously with our old connection."
The service with streaming sports and entertainment has also proved to be more reliable and as a result, enjoyable.
The leader of Test Valley Borough, Councillor Phil North, added: "Access to superfast broadband for Hampshire homes and businesses is an important contributor to economic prosperity.
"The work of the Test Valley community and Virgin Media is very welcome indeed, demonstrating what can be achieved by residents working collaboratively to find effective broadband solutions in 'hard to reach' areas."