Greater connectivity for Cheshire East with council-backed partnership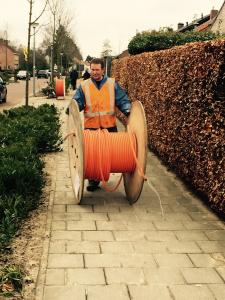 In today's online world, connectivity is more important than ever to operate businesses and keep communities current. The speed of connection can make a massive difference to any online activity and the user experience. Something like downloading a film in HD or conducting a Skype conversation with a business opportunity overseas requires a fast and reliable connection.
Thanks to the Connecting Cheshire partnership, 95% of the historical town of Cheshire East can now access superfast broadband. The scheme was initially rolled out to deliver faster connections to areas where it was regarded as commercially unfeasible, and is now considered one of the best performing Broadband Delivery UK projects in the UK.
The partnership scheme is backed by four Cheshire councils, BT, the Central Government, and the European Regional Development Fund. The four councils backing the scheme are Cheshire East, Cheshire West and Chester, Halton, and Warrington Borough councils.
High-speed fibre connection is one of the best forms of connectivity available and can offer superfast broadband speeds of 24Mbps or more. The switch to fibre however is not automatic and households in Cheshire East are encouraged to check availability in their area. When there is a solution to slow connectivity, why wait.
Cabinet member with responsibility for ICT and digital, Councillor Paul Bates said: "Fibre broadband is having a huge impact, with so many more online services reliant on a fast internet connection, whether at work or at home. I would urge everyone to check their availability and where possible, make a switch."
The Connecting Cheshire initiative is forecasted to invest almost £20m to reach an additional 100,000 premises with fibre by the end of 2018. The scheme has already given more than 80,000 premises access to superfast broadband, with 19 out of 20 homes and businesses across Cheshire now with superfast broadband connections.