Contract enables access to fast rural broadband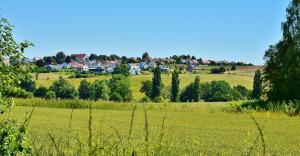 An agreement signed yesterday by major British landowners and Openreach (BT) has paved the way for superfast internet networks to reach rural parts of the country to boost connectivity speeds and reliability.
The new Memorandum of Understanding (MoU) and wayleave deal, signed by key players in the Country Land and Business Association (CLA) and the National Farmers' Union (NFU), will allow telecommunication giants to widen their ISPs to the countryside.
It will also allow Openreach to negotiate with individual landowners regarding the cost and location of cables and other electronic communication materials.
CLA's deputy president, Mark Bridgeman said: "Landowners are a committed and crucial part of the solution to alleviate the rural-urban digital divide.
A proportionate increase in the annual wayleave payment, coupled with clear documentation and an effective Memorandum of Understanding, will hasten the rollout of fixed line broadband beyond what is achievable by the revised Electronic Communications Code alone."
NFU's vice president, Stuart Roberts has echoed the sentiments of Bridgeman, stating that the agreement initiative has pushed the country forward by allowing the farming business to boost its productivity, profitability and continue its progressive trajectory.
Although the finer details of the agreement have not yet been made clear, it is formally expected to come into effect on October 1, 2018.
These efforts come as part of the UK government's initiative to improve internet connectivity to 95 per cent of the country's geography by 2022. The government aims to provide full fibre (FTTP) coverage to the whole country by 2033, and grow broadband services in rural areas as part of the Universal Service Obligation (USO).
Kim Mears, Openreach's managing director of strategic infrastructure commented: "This agreement will help us speed up our rural build programme and drive the UK's digital growth.
"As Britain's leading digital infrastructure provider, we've invested more than £11 billion over the last decade to build a better, broader and faster network. [The agreement] is a great step towards achieving that."