Is Ethernet In The First Mile Suitable For Your Small Business?
Ethernet in the First Mile, or EFM as it's sometimes referred to, has lots of offer businesses that currently struggle with inadequate broadband speeds. Prices can vary, so it's important to to check the pricing in your local area using tools such as our free Ethernet in the First Mile pricing tool.
So what can EFM bring to your business?
Ethernet in the First Mile connections can provide the bandwidth required to implement...
Faster internet connectivity – this is perhaps the most basic but important benefit of signing up to Ethernet in the First Mile. Faster internet means greater productivity, fewer frustrations for staff and greater ability to upload and transfer large files.
Remote working – more and more businesses are opting to allow staff to work from home, but most need a fast internet connection to be able to offer these kinds of flexible working options. Ethernet in the First Mile can increase your bandwidth to ensure that a number of staff can connect to their work computers from home.
VoIP – Voice-over-IP can cut your business phone bills and reduce or eliminate ISDN circuit rental costs. However to maintain call quality and service availability, you'll need a reliable, dedicated, symmetric connection. Ethernet in the First Mile can provide you with that connection.
Video conferencing - a faster connection means that it's easier to offer video conferencing as a service for staff and clients.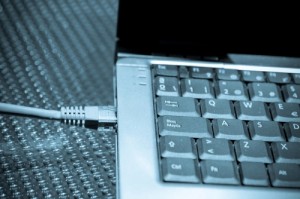 Ethernet in the First Mile can help facilitate effective remote working for your staff
Are all Ethernet in the First Mile services the same?
Not at all - there are several variables you should take into account when trying to find the right EFM service for your business.
Firstly, there's geographic availability. Ethernet in the First Mile isn't available everywhere. In some places, you'll just have to go with a fibre-optic leased line instead. In other areas,  EFM is available, but there's just one network operator. And finally, in some areas where are two or more competing EFM network operators.
A second consideration when choosing between EFM operators is price. Some EFM network operators are cheaper than others.
Thirdly, consider how reliable your service needs to be, given your business's dependence on its connectivity. For example,  some suppliers of Ethernet in the First Mile circuitry will offer a service that is reliant on a single line card. This means that if a problem occurs on a particular piece of hardware in your local telephone exchange, you could suffer a complete loss of service, rather than just a reduction in your connection speed.
It's a better option to choose a supplier who can ensure that if a single piece of hardware fails at your local telephone exchange, you can still send and receive data using your Ethernet in the First Mile connection - be it with a reduced throughput. However, the less resilient option is usually cheaper, so we offer our customers both options.
The number of copper pairs used in the network is also worth considering – the more the better, as additional pairs add resilience and increase the speed available to you. The generally cheaper EFM network operator offers services based on 2 or 4 copper pairs. Another provider, one that is typically more expensive, can use up to 8 pairs, and consequently offers higher maximum speeds ('up to 35Mbit/s', instead of 'up to 20Mbit/s').
The speed of installation might be another factor that will affect your choice when choosing an Ethernet First Mile supplier. The generally-cheaper EFM network operator tends to take a few weeks longer to install services than its more-expensive competitor.
How much will Ethernet First mile cost you to install?
This depends on a number of variables. Our online Ethernet First Mile price checker tool allows you to enter your post code and get instant price quotes for EFM services and fibre leased lines in your area.