Ethernet First Mile - Should your business opt for it?
Ethernet First Mile has numerous benefits to businesses of all sizes and a growing number of business owners are moving away from ADSL and SDSL and towards EFM as an alternative that suits their modern networking requirements.
Since when has the future belonged to Ethernet First Mile?
It all started with the launch of SDSL, which made symmetric leased line connectivity available to a huge number of businesses and homes in the UK, through some 900 of the UK's 5,600 telephone exchanges at the time. However, business just weren't signing up in large enough numbers to justify a larger commercial roll-out. Fast forward a few years and one of the UK's largest network operators decided to replace its various networks with a single network capable of carrying all its voice and data traffic. This had a side benefit. The upgrades made it possible for wholesale Ethernet First Mile circuits to be made available in large areas of the country and to offer speeds far in excess of what had been available via SDSL. Ethernet First Mile could now offer speeds of up to 10Mbit/s. That was back in 2010 – since then, the battle between EFM network providers has resulted in increased speeds and greater availability of EFM through internet service providers. It has, as a result reached some impressive speeds, becoming the 'next big thing' in business connectivity and offering speeds of as high as 35 Mbit/s.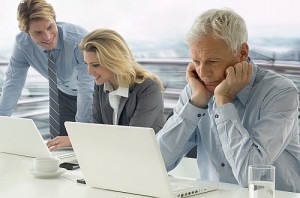 Even small businesses will benefit from an investment in Ethernet First Mile
So what are the advantages of Ethernet First Mile?
Ethernet First Mile can often be connected more quickly - EFM that is installed over copper can be quicker to install than fibre alternatives and produces the same fast EFM download speeds of up to 35Mbps. Copper EFM uses existing copper wires to run the connection through, which is quick and convenient, providing there are adequate number of copper pairs available for the job.
The cost of copper EFM can be less than fibre EFM or SDSL connections - Also, in some regions, copper based EFM leased lines are cheaper than fibre connections, although the reverse can be true elsewhere, so take a look at our leased line price checker for the best deals in your area.
EFM is more widely available than traditional SDSL services - Ethernet First Mile equipment is available through more telephone exchanges than is traditional SDSL
EFM uses a dedicated connection, which is not shared by other customers - With some SDSL and ADSL solutions, the backhaul bandwidth linking your local telephone exchange to your network provider is 'contended'. This means that there may be enough for all customers, causing your connection to slow down when lots of other customers are competing with you for a limited and insufficient pool of bandwidth. This doesn't happen with Ethernet in the First Mile connections, as the entire bandwidth is reserved just for you!
Overall, any business with an ADSL or SDSL connection should look into whether EFM could provide them with a faster, more consistent connection speeds. Be aware that EFM is pricier than ADSL and SDSL, so make sure you look at our Ethernet First Mile pricing tool to check you're getting the best deal available at your location.