Ethernet First Mile - How Does It Compare to SDSL?
Ethernet First Mile offers a whole range of benefits over a traditional SDSL connection that can ensure that you receive a faster service and greater availability. It could also be cheaper than you think – check our instant online Ethernet First Mile pricing tool for the best EFM & leased line deals in your area.  
Ethernet First Mile offers much higher speeds than does SDSL
Speeds of up to 35Mbit/s are, of course, a major selling point for anyone considering leasing an Ethernet in the First Mile line. SDSL traditionally comes in speeds of 0.5Mbps, 1Mbps or 2Mbps. And even then, a large proportion of businesses in the SDSL coverage area are unable to get 2Mbit/s, as they're too far away from the local telephone exchange. Sometimes, SDSL can't even provide 1Mbit/s!
EFM connections are uncontended. Many SDSL connections aren't
Ethernet First Mile users enjoy a dedicated connection. This means that the entire bandwidth of your connection is reserved just for you. SDSL circuits, however, are often contended, which means speed and service levels drop at busy times of the day. So EFM is the ideal solution for SDSL users who are fed up with their connection slowing down when too many others customers on the same telephone exchange try to use their connections at the same time.
Ethernet in the First Mile is available in more locations than is SDSL
EFM services will shortly be available at just under 1900 telephone exchanges in the UK, compared with a mere 898 for SDSL.
Traditional SDSL Connections Are Less Reliable Than EFM Connections
Another advantage to using Ethernet First Mile as opposed to SDSL is the greater resilience that comes from using multiple line cards, copper pairs and other equipment. This means if there is a problem with one element, there is back up to ensure the service is resilient. This can be compared with SDSL, which typically uses a single circuit and line card, with the whole thing connecting to a single piece of equipment.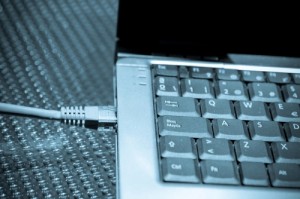 Ethernet First Mile can provide the bandwidth your office needs to roll out homeworking to staff.
What would you use an Ethernet First Mile connection for?
•WAN Connectivity – Businesses often use this technology to ensure that staff in different offices (and homeworkers) can share data and servers despite being in different locations. •VoIP Telephony – Ethernet First Mile makes switching to VoIP a more realistic option, saving your business money on the cost of making calls. •Video Conferencing – with the greater speed and reliability offered by Ethernet First Mile, video conferencing can be a realistic and very useful technology to adopt in your office. • Remote working – Ethernet First Mile helps your head office ensure that its bandwidth is sufficient to allow home workers to connect to their work desktops from home. •Fast Internet Access – Don't forget that Ethernet first mile also helps attain much faster internet connection speeds – say goodbye to the poor productivity and frustration caused by slow web access.
But how much does Ethernet First Mile Cost?
Why not use our free Ethernet First Mile pricing tool to find the very best prices for Ethernet in the First Mile connections and Leased Lines in your local area.