Dedicated Line - What It Is And Why Is It Useful To Businesses
What is a dedicated line?
A dedicated line is a fixed-bandwidth connection between two locations that is reserved at all times for use by one subscriber, typically a business.
To find out how much such a connection should cost in your location, visit our dedicated line pricing tool.
How is it used by business?
Such high-capacity circuits are often used to link corporate offices to the Internet.
The second most common use is to connect the local area networks of several corporate offices together to form a wide-area-network. This allows those offices to share IT resources and transfer data between sites.
Dedicated lines can also be used to carry phone calls, and to provide sufficient bandwidth at a company's head office that lots of staff can connect to their work computers from home simultaneously.
Dedicated leased lines offer consistent speeds, high data throughput and fast upstream speeds
A dedicated leased line makes use of capacity that's reserved solely for the individual company. Unlike consumer internet connections, the bandwidth available does not drop at peak times, when other customers of the same ISP are attempting to make use of their connections.
Dedicated lines offer major speed advantages compared to ADSL. According to research by UK telecoms regulator OFCOM, the typical British ADSL connection offers only 12Mbit/s downstream, and around 1Mbit/s upstream. In contrast, an high-capacity ethernet circuit could provide a connection speed of up to 10,000 Mbit/s (10 Gbit/s), both upstream and downstream. Most companies don't need that much bandwidth, but a large proportion of companies require significantly more bandwidth than ADSL can deliver.
Although dedicated connections can deliver higher and more consistent speeds than broadband, the difference is usually felt most keenly when it comes to the upload speed. Dedicated connections are symmetric. This means that the upload speed of the connection matches the download speed. For many businesses a slow upload speed is the primary reason for upgrading from a painfully inadequate broadband connection to a more expensive but higher capacity dedicated line.
Dedicated lines have better Service Level Agreements and faster fix times than broadband connections
If your broadband connection goes down, you could be left without an internet connection for days. For most businesses, this could be disastrous. For example, the business would not be able to receive or send emails.
It's for this reason that dedicated connections typically come with Service Level Agreements that guarantee that major connectivity issues will be fixed relatively quickly, usually within one business day.
To increase uptime still further, most providers of leased lines actively monitor their connections 24x7, ensuring that if a line goes down, for whatever reason, the Network Operations Centre will be alerted automatically, allowing troubleshooting to start straight away and downtime to be minimised.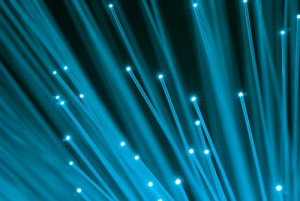 a 100mb dedicated line would be delivered using fibre-optics
Dedicated circuits can carry telephone calls, video conferencing streams and WAN traffic
Dedicated leased lines can carry numerous different types of traffic ranging from internet traffic such as web pages, emails and video streaming, to WAN traffic – typically data sent between different offices of the same company.
Dedicated lines can also be used to carry telephone calls. Traditionally, many companies connect their telephone system to the public telephone network using pricey ISDN30 circuits. By using a dedicated leased line and SIP Trunking, companies can often do away with their legacy ISDN30 circuits, sending their phone calls over a cheaper uncontended circuit instead.
Typical Speeds
The most popular speeds for a dedicated connection are 10Mb, 20Mb and 100Mb.
High-bandwidth connections (typically >35Mbps) are usually provisioned exclusively over fibre-optic circuits. Lower-bandwidth connections, such as 2mbps or 10mbps leased lines,  can also be provisioned over fibre. In some cases these slower connections can also be delivered using a mixture of fibre and copper. Fibre is best, but sometimes a mixture of fibre and copper can be cheaper. The availability of these cheaper options varies by location.
The cost of connectivity is falling
Advances in optical networking are continuing to cause a gradual fall in the cost of uncontended connections. And consumers growing use of broadband has driven an investment in network capacity & equipment that has resulted in the cost of low-bandwidth connections falling.
To find out how much a dedicated connection would currently cost at your company's location, use our instant dedicated line quotation tool.