Dedicated Bandwidth - Its Uses and Benefits
Dedicated bandwidth is bandwidth that's reserved solely for the use of one subscriber, usually a business.
The ring-fencing of the bandwidth ensures that the business always gets the same high data throughput, regardless of what other subscribers may do with their connections. Unlike broadband connections, there's no drop in data throughput at peak times.
Dedicated bandwidth is usually symmetrical. This means that the connection can send and receive data at the same high speed.
Such connections offer more than just a high & predictable rate of data throughout. They tend to provide low delays in data transmission (latency) and low variations in that delay (jitter). The cost of a dedicated connection depends on the location being connected and the amount of bandwidth required. For an indicative price, visit our online dedicated bandwidth pricing tool , enter your postcode and select the bandwidth of interest.
What is Dedicated Bandwidth Used For?
Typically, it will be used to carry one or more of the following types of traffic:
Internet traffic - Web pages, emails, files being transferred by FTP, VPN traffic from staff working from home.
Corporate data travelling between offices of the same company - Internal emails, spreadsheets, word documents, traffic generated by internal applications such as CRM systems.
Telephone calls - Just as your music can be digitised, so can your telephone calls.  This allows them to be sent over your data network.
Video Conferencing - This is often used by organisations with multiple offices to cut the amount of time staff have to waste travelling to meetings.
Data Backup & Server Replication - Most businesses would be in serious trouble if they lost their email server, their database server, their file servers or their internally-hosted applications. It's important to back up these business-critical systems frequently so that services can be restored if something goes wrong.  As restoring an entire server can take many hours, it may be wise to replicate some critical servers, so that if there's a serious hardware failure, the users can access an almost identical copy of the lost server, while the primary server is being fixed. A high-capacity dedicated connection can provide the bandwidth required to backup & restore data, and to replicate servers.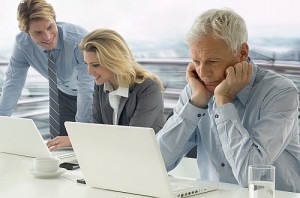 Dedicated bandwidth could put an end to staff having to wait ages for web pages to load
Why Get Dedicated Bandwidth?
It can eliminate slow networks that damage staff productivity - If you don't have enough bandwidth, your staff will have to wait longer for web pages to load, and hosted applications may appear unresponsive. A bandwidth upgrade can fix this.
Cost savings from VoIP - You could eliminate some internal call costs by routing calls between your offices over your WAN. You could reduce (or eliminate) the need for expensive ISDN30 circuits by switching to SIP Trunking. This lets your calls travel over a cheaper dedicated circuit that can carry a wide variety of traffic, not just phone calls. As long as the call traffic is prioritised over the other types of traffic, there should be no difference in call quality.
Consolidate IT resources at fewer locations - If you install fast connections between your offices, you may be able to share IT resources over the WAN, instead of providing each office with its own local servers. This makes your IT infrastructure more manageable, as there are fewer servers & appliances to monitor, patch, troubleshoot, power, house and backup.
Be able to replicate your data more frequently and restore it faster - It is essential to backup your data, so you can recover a recent working copy if something goes wrong. Bandwidth is often a constraint on how fast businesses can backup, restore or replicate data. A faster connection may mean faster backup windows, and enough network capacity to backup data more often.
To find out how much dedicated bandwidth will cost at your location, visit our dedicated bandwidth pricing tool.