Dedicated Bandwidth - Why It's Cheapest In The Major Data Centres
We provide dedicated bandwidth for offices. We also provide it in over a dozen carrier-neutral colocation facilities.
The cheapest place to buy dedicated bandwidth is in such major data centres. There are four reasons for this:
Bandwidth Providers Are Already In the Building. So It's Comparatively Cheap, Quick & Easy For Them To Physically Connect You To Their Existing Networks
Major data centres are magnets for carriers, Internet transit providers and potential peering partners. These companies provide the underlying bandwidth that everyone else aggregates when they provide you with bandwidth.
Many of these companies are already in the building, and so unless you're after multi-gigabit links or dark fibre, they'll probably be able to connect you to their networks without spending a fortune digging up the road.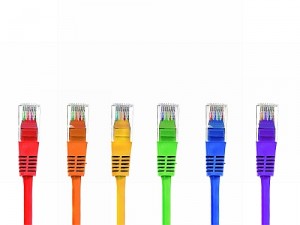 Fierce competition between different transit providers results in low prices for dedicated bandwidth
Lots of Carriers And Transit Providers Are In The Building, So There's Fierce Competition
At many locations in the UK, there are just one or two 'carriers' who can provide the underlying connectivity. At major data centres, there are usually at least half a dozen. This means there's more competition, which in turn results in lower prices for bandwidth.
Major data centres are densely populated with companies that take colocation space and need significant amounts of Internet transit. This juicy concentration of demand attracts lots of Internet transit providers to the data centre. Fierce competition between these providers results in them offering Internet transit at low prices, subject to the customer committing to buy a significant amount of transit, for several years to come.
It's unlikely you would want to commit to buying over 1000Mbit/s of bandwidth, as frankly, you're unlikely to need that much. But your ISP might well be willing to make that sort of commitment, as the aggregate demand from its customers will probably be high enough to justify such a commitment, and the higher the commitment you make, the lower the 'cost per Mbps' will be. If your ISP gets a cheap price for transit, it is likely to pass some of this saving on to you.
Bandwidth Providers Have Great Economies of Scale At These Data Centres
Carriers and transit providers aren't just in the building. They are very well-connected to it. They will have provisioned high capacity links between their assets in the building, and their core network.
This gives these companies impressive economies of scale that reduce their costs of providing bandwidth to you.  100Mb/s of connectivity might be a lot to you, but to them, it's a mere 1% of the bandwidth on a 10 Gigabit-per-second link.
Peering Is Easy & Inexpensive At Internet Exchanges
Providers have two ways of connecting you to the various networks that make up the internet. They can 'peer' with other providers, swapping traffic for free. Or they can pay a transit provider to connect them to lots of different networks.
ISPs prefer to use peering where they can, as it's far cheaper than transit. Peering is also faster, as traffic goes directly from one network to the other, without the involvement of a middle-man.
Need Dedicated Bandwidth In A Data Centre?
If you need dedicated bandwidth, hSo can probably help. We can provide 1:1 connectivity in many of the UK's carrier-neutral colocation facilities. At the time of writing, we are in the following data centres:
Bluesquare Maidenhead
City LifeLine
Equinix LD1
Global Switch 1
Global Switch 2
Level(3) Goswell Road
LDeX 1
NIKHEF
QiComm Tutis Point
Sentrum Woking
Telecity HEX67
Telecity HEX89
Telecity Meridian Gate
Telecity Sovereign House
Telehouse East
Telehouse North
Telehouse West
Telstra London Hosting Centre
TelX 111 8th Avenue
If you need bandwidth somewhere else, we can also help. We work with all the UK's major wholesale carriers, including BT, Virgin Media, Colt, Vodafone, TalkTalk, Verizon, KCOM and SSE Telecom to provide connectivity pretty much anywhere it is needed. In fact, you can use our dedicated bandwidth pricing tool to request a site-specific quote.
If you would prefer to get dedicated bandwidth in one of our data centres, give us a call on 020 7847 4510 and we'll be happy to help.