Waste management firm improves sustainability with Google Cloud solution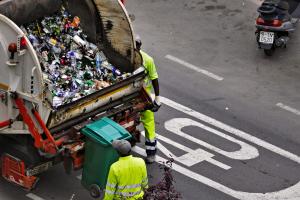 Enevo is a Finnish firm that looks to transform the environmental, social and financial impact of waste. Using data from refuse containers worldwide, the company creates efficiencies and provides valuable insights into waste collection and recycling.
In general, waste services are carried out under static schedules that rarely look at actual needs, while the software used for in-vehicle computer systems in trucks can be outdated, complicated to use and costly.
Enevo sought to provide intuitive software and devices for its customers that were easy for programmers to develop. The company was also looking to challenge the status quo of enterprise devices and software having inferior design to consumer products.
The company chose Google Maps Platform to build a cloud-based solution utilising sensors in bins to measure data, identify trends and calculate when bins will be full. These insights enable Enevo's customers to adjust their operations and plan routes based on demand.
Google Maps was chosen to build Enevo's bespoke map solution due to its intuitive set-up and the customisation it offered to developers. The map provides customers with a visual overview, showing the precise location of bins and containers, as well as detailed information including fill-level.
Enevo's app also uses GPS traces from trucks to offer real-time updates on driver progress. Enevo provides Android-based tablets to customers, enabling drivers to access daily routes and tasks, send status updates and report issues on the road.
With Enevo's Google Maps solution, the firm's customers have been able to reduce their number of trucks and the time drivers spend on routes, cutting costs by 50 per cent.
Enevo CTO Pirkka Palomäki commented on the solution: "It helps us deliver a product that's both intuitive and aesthetically pleasing… Google Maps is an essential part of the service we provide—forming the basis of user interaction with our product, and helps people quickly understand what is happening by giving them a live view of all activities."