MediaEvent Services sees 20x growth with AWS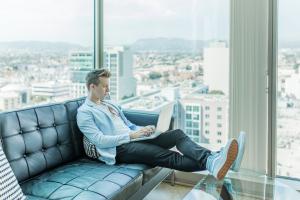 MediaEvent Services (MES), a live webcasting company, originally used its on-premises infrastructure to host live events, but in 2007 it began building on AWS due to its scalability. MES now relies on AWS and has used it to develop a cloud-based self-service webcast platform, SlideSync to help users to create massive live streaming events for viewers worldwide.
"AWS has helped us to grow and scale quickly," said Christian Becker, chief technology officer of MES. "What distinguishes us from our competition is that we keep innovating with our own webcast platform."
MES employs just 22 people but is able to achieve great results, with SlideSync only needing one staff member to oversee it and to be on standby for up to 30 daily events with thousands of attendees. Thanks to AWS, SlideSync has seen its traffic increase more than 2,000 per cent year over year. MES uses Amazon CloudFront for SlideSync where it can deliver media assets, such as live streams, recorded streams, and presentation images.
"The advantage of Amazon CloudFront is that it is located throughout the world," said Becker. "No matter where attendees are located, there are local Amazon CloudFront edge locations that can provide video in high definition."
MES also takes advantages of AWS Artifact, which provides on-demand access to AWS security and compliance reports. This way, the company can offer high security to its customers and address their concerns about data protection.
"For many new customers, our use of AWS accelerates the sign-on process to just days because of the readily available security and compliance reports," added Becker.
Looking ahead, MES plans to build live transcription and translation into its platform using Amazon Transcribe and Amazon Translate. "Economically speaking, it did not make sense for us to develop this feature on our own," says Becker. "AWS, providing an increasing number of building blocks, gives us the innovative technological edge we need."