INEOS TEAM UK prepares for America's Cup with AWS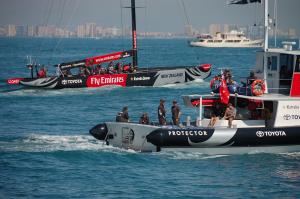 Ahead of the 36th edition of the America's Cup in Auckland, New Zealand next year, Portsmouth-based INEOS TEAM UK are utilising an HPC environment on Amazon EC2 Spot Instances to aid its boat design.
For the America's Cup, all teams must design and complete a boat that follows guidelines set by the race organisers, to fully test each crew's sailing skills. These restrictions, which include a limit on on-water design trials, also control the cost element, meaning that as many teams as possible can enter.
Despite this, teams still retain a large element of control over the boat's design. But, in the absence of on-water trials, must use computers to run thousands of simulations on everything from boat shape to different water positions.
For INEOS TEAM UK, 2,000-3,000 computational fluid dynamics (CFD) test simulations are required for designing a single boat foil. Running all of these tests on the team's on-premises system could take over a month, which is too long as it limits the time engineers have to consider the results.
To tackle this, the team migrated its CFD simulations to the AWS Cloud, choosing AWS for its cost-effectiveness and ability to handle a task of this scale. Working with AWS Professional Services consultants and Solutions Architects, INEOS TEAM UK was able to design an HPC environment on multiple Availability Zones in several regions, along with Amazon EC2 Spot Instances, which offered a 65 per cent cost saving over on-demand capacity.
The team utilised Amazon EC2 C5 Instances to run the simulations for the hull, with Amazon EC2 C5n Nitro-powered instances alongside Elastic Fabric Adapter (EFA) network interfaces. Amazon FSx for Lustre was used for a fast, scalable, secure high-performance file system.
Overall, with AWS Cloud, the team can run thousands of simlulations per week, rather than per month, allowing engineers more time to innovate whilst also delivering valuable cost-savings.
According to INEOS TEAM UK head of design Nick Holroyd: "Heading towards a design deadline is always a frantic time. You have to make decisions fast. Using AWS, we have more time to think about what makes a design successful or not. We can then use this knowledge in our next design iteration. AWS allows us to take bigger design steps, simply because we have more time to understand our results."